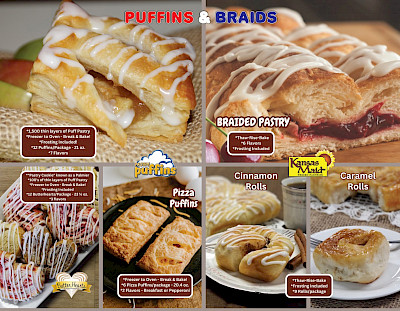 Pastry Puffins
Nearly 1,500 thin layers of French Pastry Dough make the Pastry Puffins melt-in-your-mouth flaky, buttery, and fluffy light. The combination of delectable puff pastry dough and simply scrumptious fillings make for an irresistible treat. One frozen package of Pastry Puffins weighs 21oz. and contains 12 individual Puffins. A single 2.5oz. frosting packet is included with the Sweet and Fruit flavored Puffins. The Pastry Puffins are FREEZER-TO-OVEN easy to prepare. No thawing or overnight rise time required. Just break off the number you want, place them in a preheated oven and in 20-30 minutes you'll have a delectable treat like those you'll only find in an exclusive pastry shop!
PuffCrust Pizza
PuffCrust Pizza is a one-of-a-kind Pizza experience. The artisan, croissant crust and unique lattice top is loaded with real cheese and delicious fillings making PuffCrust Pizza© a Pizza-lover's delight! One package of PuffCrust Pizza contains (2) individual pizzas for a total of 6 servings.
Butter Hearts
Butter Hearts, an exclusive product to fundraising, are made from delicious, artisan style puff pastry with hundreds of thin layers of pastry goodness, making them a melt in your mouth experience every time! They are gooey and sticky in the package, but delicious out of the oven, featuring a distinct heart shape with a caramelized finish. Each 23.5-ounce package of Butter Hearts contains 12 servings and includes a 2.5oz. icing packet for a little extra sweetness! Customers will be thrilled with the delightful look & taste of this french pastry cookie, also known as a palmier (palm-ee-ay). Butter Hearts just might be the PERFECT companion to your favorite cup of coffee or hot tea. A sophisticated pastry treat made just for you!
Kansas Maid Braids
Kansas Maid™ pastries are light and flaky, containing mouthwatering fillings like cinnamon, cream cheese and various fruit flavors. Unlike a dense bread, Kansas Maid™ pastries are hand-braided with a sweet dough base containing over 40 layers of light, airy dough and 100% real butter. This gives the one-and-only Kansas Maid™ pastry its unique and incredible flavor! Thaw, Rise & Bake. Icing packet included. Great for breakfast, dessert or any special occasion. Very profitable AND exclusive to fundraising! You'll love it when you try it! Kansas Maid™, one of the original makers of Butter Braid® pastry, creates all of their pastries and rolls in a NUT FREE facility! Try a Kansas Maid™ pastry and enjoy the taste that you've grown to love!